Making Headlines Again
You know that scene in the movie The Holiday, when Kate Winslet lets Jack Black in through the gate to Cameron Diaz's mansion and it's really windy out? No? Well, a chunk of something gets in Kate's eye, and while Jack is valiantly picking at her eyelashes to get said chunk out, he says, "Legend has it, when the Santa Anas blow, all bets are off. Anything can happen." All of this while Hans Zimmer's pretty and romantic saxophone composition is playing in the background. At the end of the scene Kate is left standing on the steps to her giant holiday mansion, watching the winds play with the branches of a nearby tree, and she says out loud to herself, "Anything can happen".
(Just in case you care, here is a link to the video of that scene; I couldn't find any video clip to embed.)
Because of that scene, I have been wanting to experience the Santa Anas for the past five years.
I had this lofty dream that if only I could be in Southern California at Christmastime, when the Santa Ana winds begin to blow, something life-changing would happen. Now it's December and I'm here, but needless to say, my dream is yet to come to fruition. Instead, two nights ago, our apartment got buffeted by 60+mph winds, I hardly slept, and every single Los Angeles fire truck got many, many more miles added to their odometers. I heard stories of trees smashing entire gas stations and giant "lightning storms" lighting up the city as hundreds of transformers blew (is that the right way to say that?), and I personally saw many downed trees, leaves, branches, palm fronds, etc., littering freeways and residential streets.
Hey, Jack said anything can happen; he didn't say it had to be good.
This is the first natural disaster-type event to occur since we moved here, and it's reminding me that no place is perfect. We're back in a wild/brushfire watch until the winds die down, because they are accompanied by very low percentages of humidity, and though this week's high winds are now in the past, they could pick up speed again and do more damage in the coming months. I guess that the Santa Ana winds are SoCal's version of tornadoes, except while tornadoes are pretty much inevitable in the midwest every spring and summer, the insane wind speeds (some apparently got up to the same speeds of a level two hurricane) of the past couple of days are the highest Los Angeles has seen in years. Moral of the story: I'd still pick the Santa Anas being bad every once in awhile over hiding in my basement (or being extra scared because I don't have a basement and live on the second floor) every single summer. However, I might be biased, because I already have a longstanding and completely unfounded fear of tornadoes, and LA still can do no wrong in my eyes.
Here are some photos of the mess the winds caused - cell phone style, because once again, I didn't have my camera with me when I wanted/needed it the most.
These photos are from the neighborhood where the family I nanny for lives - these were taken at the end of the day, after a good amount of the mess had been cleaned up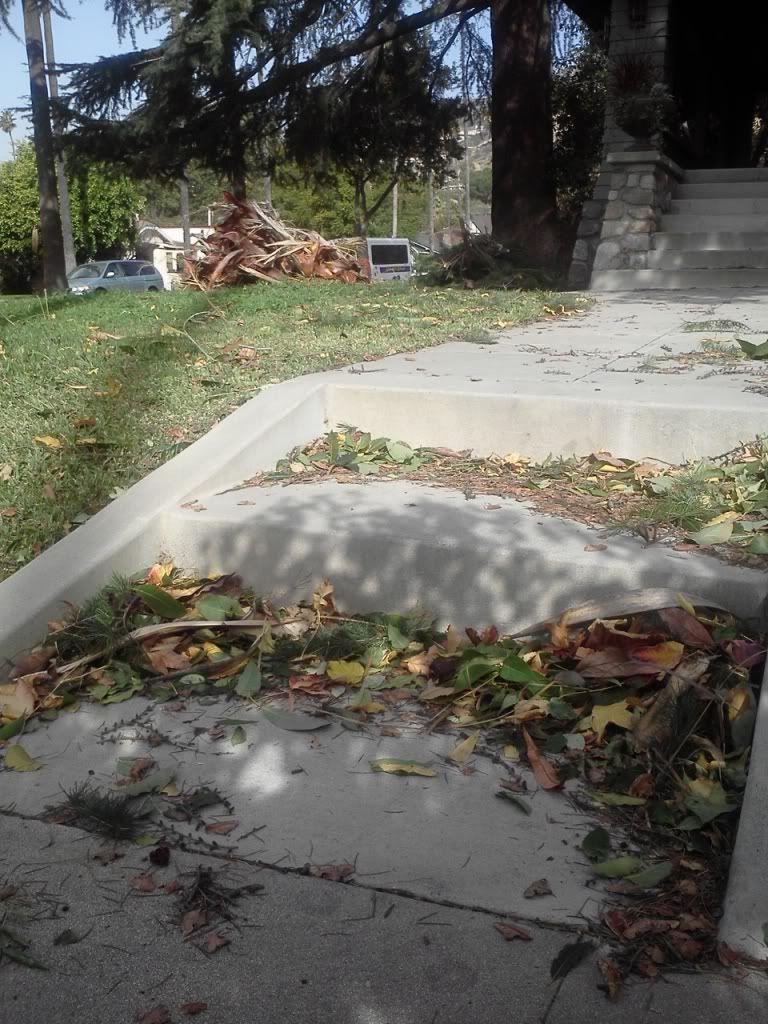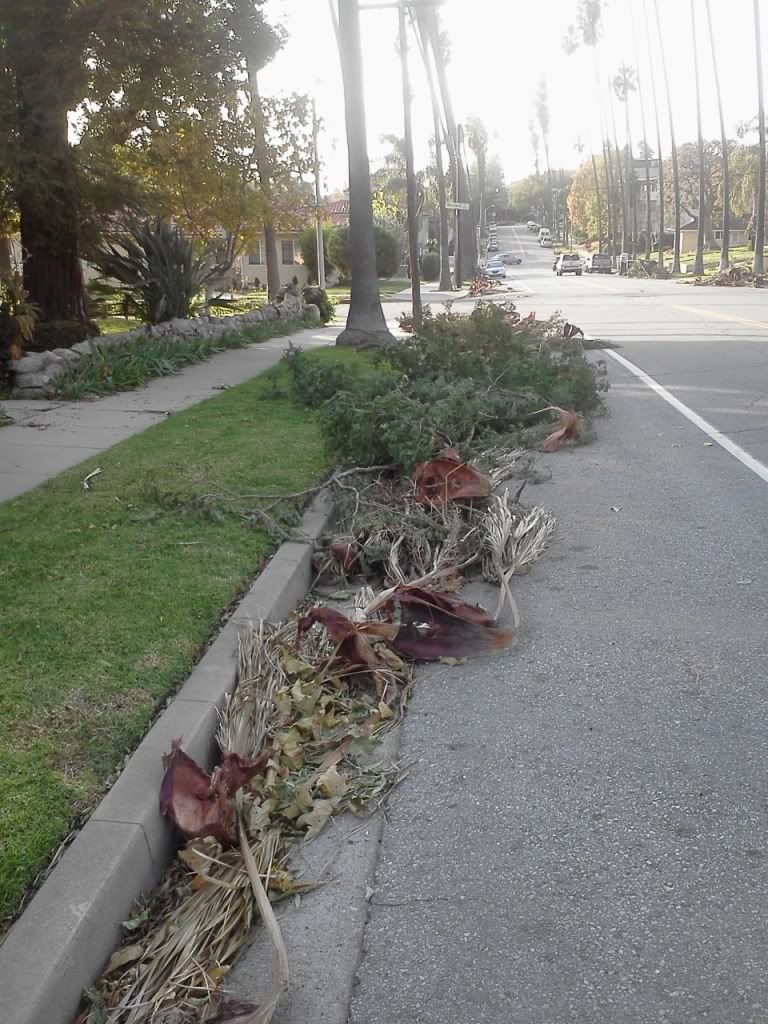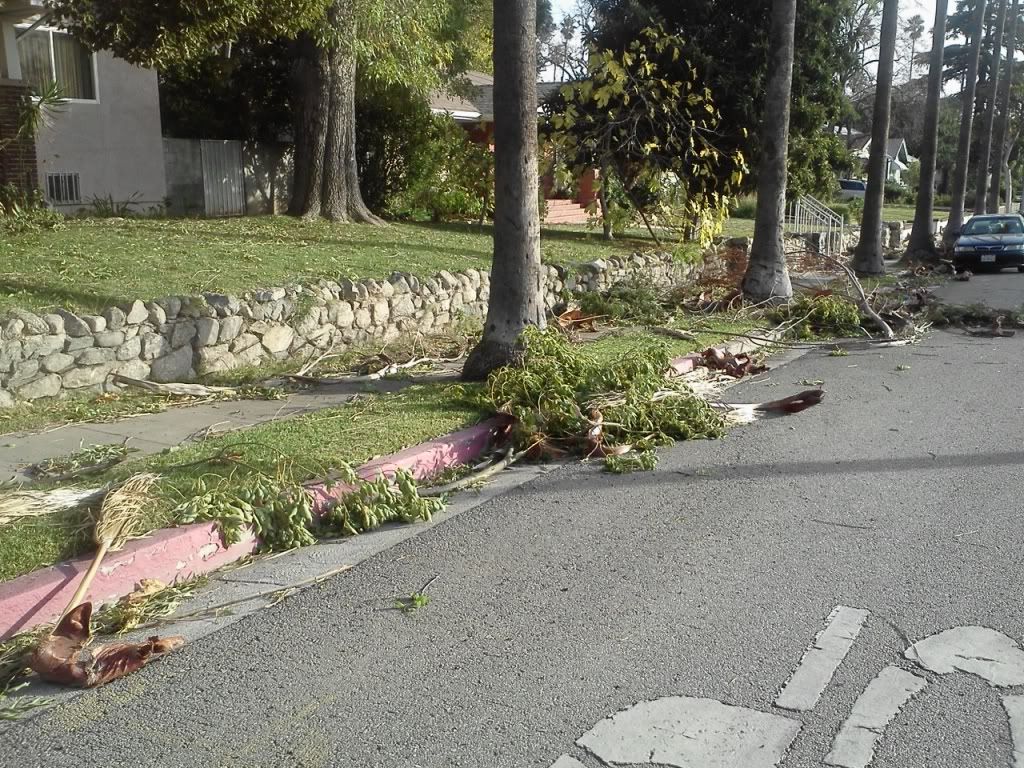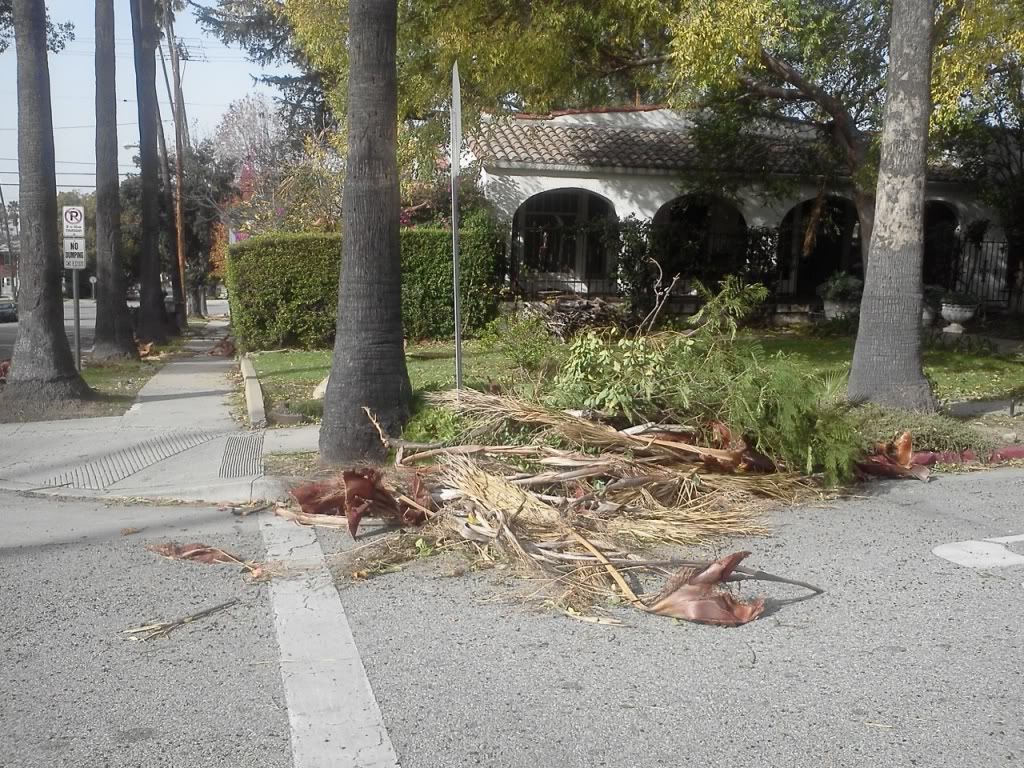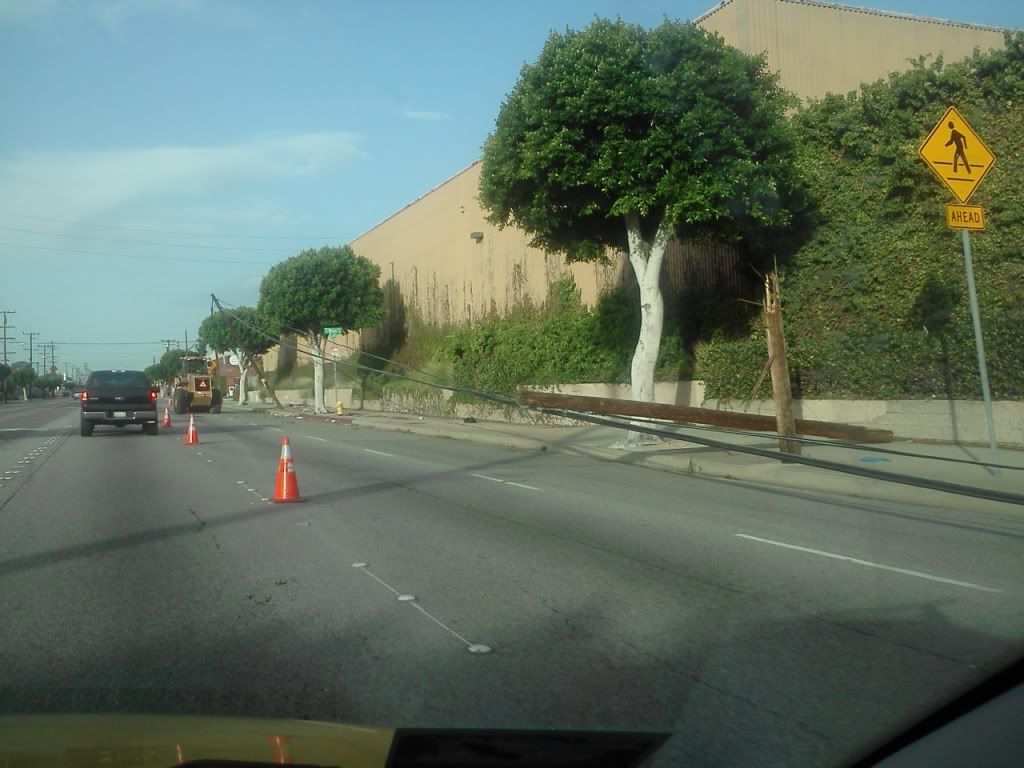 Downed power line a block away from where Toby works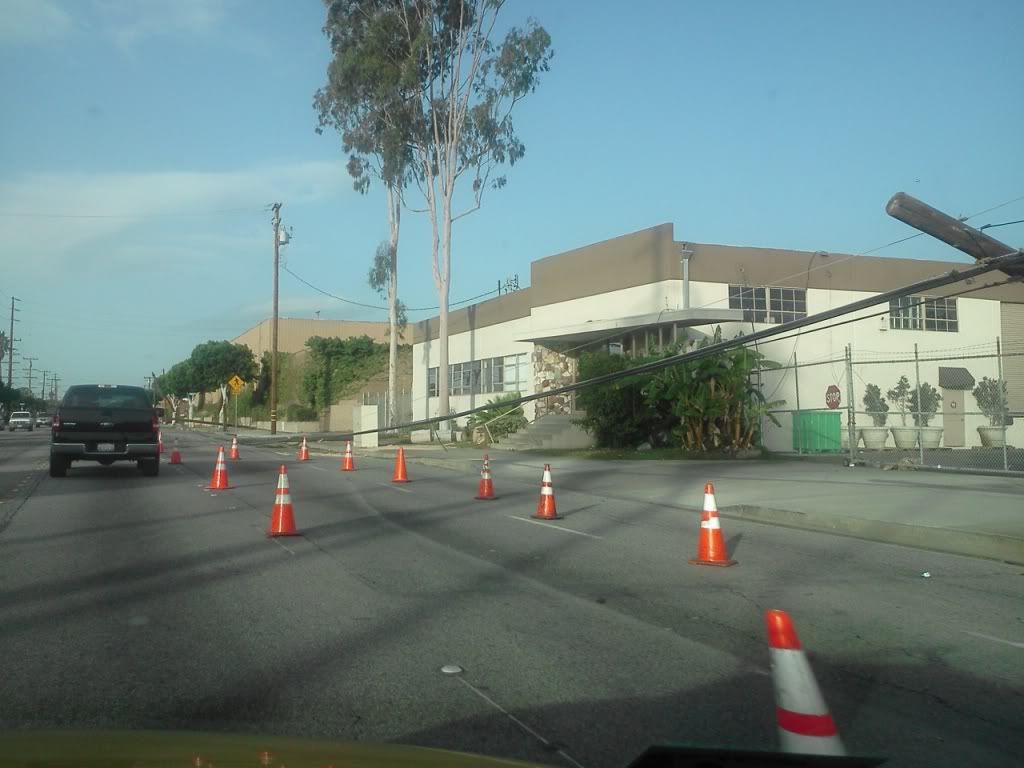 If you're looking to be wowed by extensive damage,
click here
.
And I leave you with the song "Santa Ana Winds" (whoever created this video spelled "Ana" wrong) by The Cold War Kids. Madeleine Brand (the host of a local NPR show) played it at the end of her segment about the Santa Anas, and I really liked it (it's also the inspiration for the title of the post).
Happy end of the work week!