Friend Lovin'
Disclaimer: I have incredibly awesome friends. These awesome friends have done a lot of extra-awesome things lately, so this post is packed full of friend pride. They're all too humble to brag about themselves, so someone has to shoulder that burden for them, and that someone is me.
It's been a busy week and weekend consisting of lots of friend-time, tasty drinks and hiking. Do you ever have those moments when you look around and think, "How the hell did I get so lucky?" That happened to me more than once in the past week. I realized that whenever I am with my friends, I am surrounded by incredibly talented people. I would say that it's something in the LA water, but most of these people are from the midwest...so I'm gonna go ahead and give credit to the water in the north-central region of the country.
Then, last week, we celebrated the birthday of our beautiful friend Jes by going out to a delicious restaurant named
Stella Rossa Pizza Bar
in Santa Monica (Jes works there, and I highly recommend it - go, make sure Jes is your waitress, and then tip her well!). While there, we discussed her husband
Mike
's upcoming (speaking!) role on the show Parks and Recreation. A viewing party was subsequently organized, and we headed back out to Santa Monica on Thursday to watch the show and cheer Mike on. It was super fun, and really exciting to see someone I know on a show I love. Sadly, I didn't bring my camera to either of these events, so no photos...but
check out the Parks and Recreation episode; Mike is the first guy you see at the very beginning, announcing Paul Rudd's character!
Paul even calls him "guy". Swoon. Fun fact: Mike is also an
emcee for the LA Clippers (and used to be for the Timberwolves as well)!
On Friday night, Toby, Casey and I spontaneously decided to try a sushi place in West Hollywood and then headed over to the
Formosa Cafe
, legendary hang-out of movie stars since 1925 (we didn't see any), to have a few drinks with Nick and his girlfriend Kelly. I'm considering becoming a regular there, especially since they sell drinks with names like "The Audrey Hepburn". I got a raspberry Audrey Hepburn on Friday, with chocolate drizzled on the inside of the glass. Need I say more?
Friday night it rained, resulting in the best sleep I've had in weeks, and when we woke up on Saturday morning, the sky was fresh, the sun was out, and the air was humid, which never happens here. We got dressed and headed to Runyon Canyon for a hike, and I made the last minute decision to grab my camera, because I felt like I was on vacation. It smelled like Hawaii. And there were puddles. Puddles. In Los Angeles. Kodak (Canon) moment, my friends.
The walk to Runyon from our apartment
Puddles!
Another puddle!
This is another slightly misguided attempt at a panorama...it worked out pretty
well until the middle of the photo. Give me time. I'll get there.
Saturday afternoon we headed to Mike's graduation show for the improv classes he's been taking at
Upright Citizens Brigade Theater
in Los Feliz (super funny, of course), and then we went to the Alfred Hitchcock-inspired
Birds Cafe/Bar
next door to celebrate.
We ended the night having a much-needed hang out session with our friends Adam and Eliza. Adam is an
incredibly talented director and filmmaker
who is currently creating a web series named
The Well
. Check out
the trailer
, and be on the look out for the first episode (I'll be sure to keep you updated)! The trailer is super intriguing and suspenseful, and rightly so, because the music for this web series is being written by the aforementioned
Nick
. Do you see the connections? They're aaaallll over the place. Then there's Eliza, who is a
phenomenal children's book author and illustrator
. She is currently working on her own book where she does both of those at the same time! I want to decorate my life with her art.
That brings us to Sunday, which is going to get its own post, because it's lucky like that.
Oh, before I go, I should also mention that Jes is a super smart, environmentally active and savvy chick, Kelly is an amazing designer and furniture builder, my friend Sarah is a model, photographer, and card designer, my friends Cam and Casey are fantastic builders/ carpenters/ electricians/ everything buildy-technical, and Toby (because yes, your boyfriend can be your friend) is good at everything. =]
Kelly, Cam, Casey, and Toby have all been working at a place named
The Guild
, which designs and builds displays for many stores in Southern California and beyond, including Nike, Christian Dior, Versace, Juicy Couture, etc. etc. Here's something they worked on recently (currently installed in the Nike store in Santa Monica):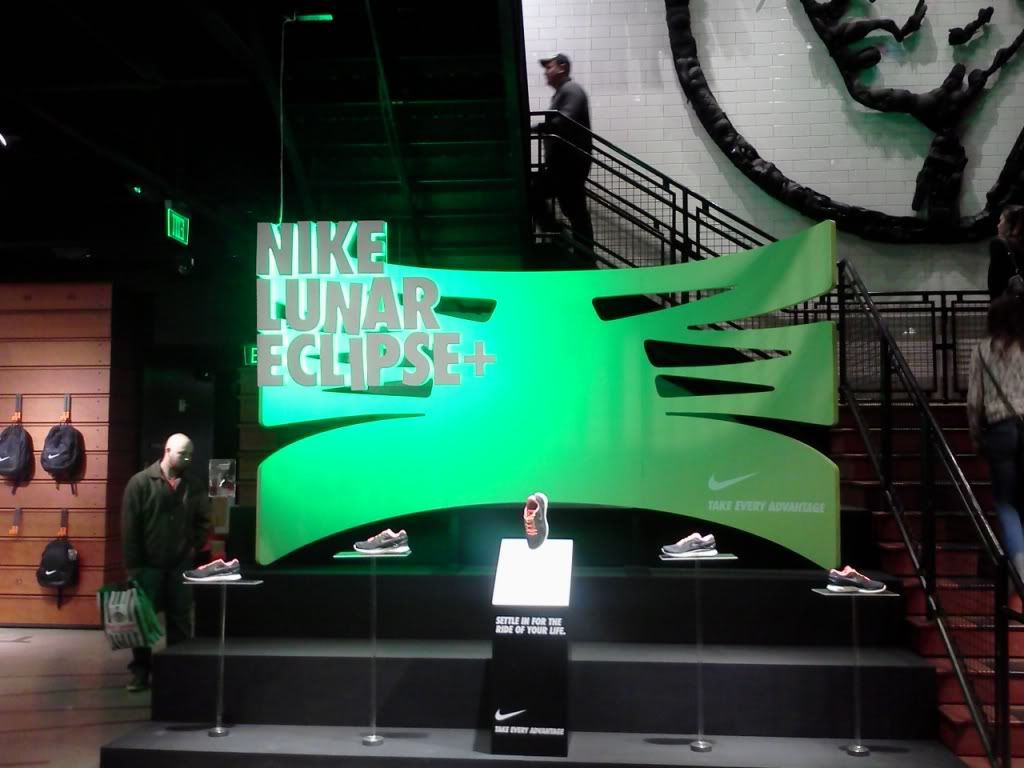 Check out all the other work they've done on
The Guild's
web site.
So...impressed yet? I have no idea what I did to deserve being surrounded by such awesomeness, but I must have had some kickass karma in a past life. I'm a proud friend. My life is good because of the people that are in it, and that includes everyone back at home in the midwest and scattered all over the world, too. I'm high on life right now, can you tell? Amazing what some exercise, sunshine, and friend lovin' will do.
Happy fourth week of January!