Solar Eclipse
The last time I remember seeing a solar eclipse was when I was in first grade (nineteen years ago, eek!). We did a science lesson on it and crafted pinhole viewing boxes, and then stood outside and waited for the moon to cover the sun. If I'm recalling it correctly, it was a full eclipse; I remember how spookiness of the light, and how weirded out I was that something could completely blot out the sun.
Yesterday I headed to Hermosa Beach to watch another solar eclipse, and while it wasn't quite as exciting as it was when I was seven, it was still pretty dang cool.
I kept referring to the day as "the day a million Angelenos went blind", because the first thing I saw when I arrived in Hermosa was a guy and a girl holding up sheets of paper with pinholes pricked through them, squinting through the holes and looking directly at the sun. We tried to convince them that they were doing it wrong, but they were having none of it, insisting that if you squinted enough, it was fine, and you'd be able to see the shadow of the moon.
I was guilty of glancing up at the sun several times throughout the evening, though, so I probably shouldn't be too judge-y about the whole thing. I guess we'll have to wait and see who loses their vision first.
I was actually surprised at how few people were at the beach to see the eclipse. I'm assuming a lot of people went up to Griffith Observatory to see it, and they probably got a better view of the whole thing than we did, since the marine layer started moving in, occasionally drifting over the sun and obscuring it from our vision.
I still managed to get a few pretty good shots, though. I didn't use the right lens (story of my life), so I wasn't able to get any close ups (that's what cropping is for, right?), but the photos I like best are the ones that are a little further away and show the haziness of the sun shining through the clouds. And no, I didn't look straight at the sun through my lens; I looked through the viewfinder from a distance and waited until I knew the sun was in the shot, and then I looked away and haphazardly took the picture. I got teased for it, but whatevs, dudes, I want to be able to see when I'm eighty years old.
Toby and Casey went swimming during the eclipse, because, "Dude, have you ever been in the ocean during a solar eclipse before? Let's go!". Obviously. As the eclipse was ending, we went down to the water to join them, dipping our toes into the ocean, which was warmer than the air at that point.
Have you ever seen the sun set during an eclipse? Because it's pretty awesome.
This actually happened. I didn't even notice it until I uploaded my photos onto my computer. I'm pretty sure a fire-breathing dragon flew out of the sun to escape the eclipse and then tried to scorch the Pacific Ocean. That's just a theory, but I'm probably right.
We ended the night by getting sandwiches and then drinking wine while sitting in a hot tub.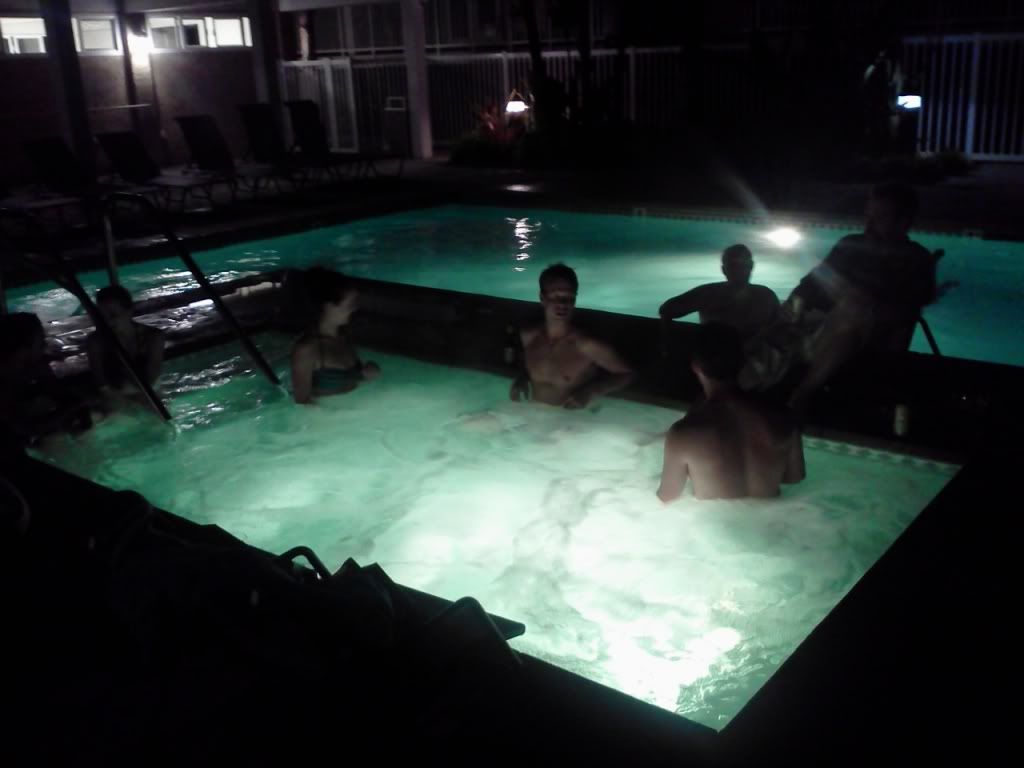 I know, right? I agree.
And that, my friends, is how you view a solar eclipse. Happy Monday!
P.S.
Really, really awesome pictures of yesterday's solar eclipse from around the world
. My favorites are the ones with the eclipse shadows. So. Cool.