Santa Monica Pier Paddleboard Race & Ocean Festival
Whew, that title isn't a mouthful or anything.
I have a little crush on Santa Monica, especially the pier. Fun things happen there. Tourists find it magical. And since I'm still in a tourist frame of mind, even after living here for nine-going-on-ten months, I do too. I hope that never changes.
It's airplane season! They're out in full force these days, advertising to all of the beach-goers.
It's a bit of a trek time-wise to get from our apartment to SaMo - you wouldn't think it from looking at a map, but it's easily a 30-45 minute drive, depending on the day of the week and time of day. Good ol' LA traffic. I would like to go to more of the happenings at the pier, but I have to pick and choose. The weekend before last, I chose the Paddleboard Race & Ocean Festival. Because duh.
There was an area set up on the beach for race participants and onlookers, and there was an area on the pier designated for sponsor tents and live music. We bought some shave ice and strolled around looking at longboards, paddleboards, and clothing, and listening to the Ukes of Hazzard (get it?) play gentle ukulele covers of popular songs. It was relaxing and I got a sunburn. I pretended I was back in Hawaii.
Ubiquitous and necessary VW bus
I think paddleboard racing may be in my future.
As I've mentioned before
, I'm more of a balancing-on-a-board-in-calm-water kinda gal than an almost-drowning-as-waves-come-crashing-down-around-me one, so surfing isn't really my cup o'tea, as much as I wish it could be. I wasn't even aware that there was such a thing as paddleboard racing! Sign me up! But let me work out for more than a week first, because otherwise I'll look like this:
And I'd much rather look like this:
Who knows, maybe some day I'll be a pro. Definitely.
Happy Monday!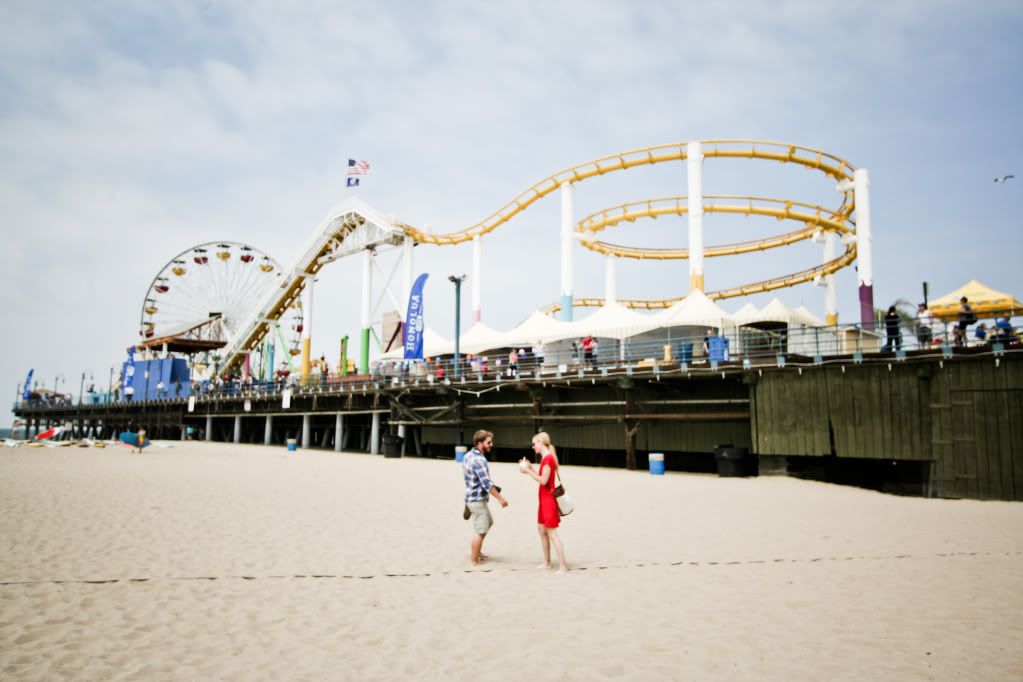 Toby and me on the beach by the pier - courtesy of my friend Sarah
---------------------------------------------------------------------------------------------------------
P.S. Bragging time. Toby and a few of his coworkers built this:
It's a tiki hut and it's on the end of the Santa Monica Pier. My boyfriend rocks.
Courtesy of Sarah